Cruise of the Week Fun Facts | 17.06.2013
MSC Sinfonia | Cape Town to Genoa
For almost a year now, we have been offering our very popular "Cruise of the week" promotion. Officially on sale every Tuesday to Thursday, the departure is offered at a special, lowered fare.
To compliment this offering, we will start a series of blogs relating to the specific cruise in question by offering a fun fact about each of cruise ports that the selected itinerary will visit. We hope you will enjoy and by all means, please share your own personal experiences about some of these incredible destinations in the comment section below.Cruise of the week for the week commencing 17 June 2013 will be on board the delightful
MSC Sinfonia
. It is a 19 night cruise from Cape Town, South Africa to Genoa, Italy departing on the 17th of March 2014.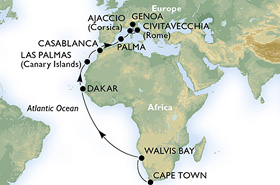 Fun Facts about ports on this weeks cruise of the week:


Table Mountain National Park has more unique plant species within it's 22,000 hectares than there are in all of New Zealand. It is also the only city on earth where both the Indian and Atlantic Oceans meet.
Walvis Bay, Namibia
One of the only places in the world where one can see flamingos, seals, pelicans and springboks all in one location.
Dakar, Senegal
Dakar is most famous as the former end destination of the famous "Dakar Rally" where professionals and amateurs would compete in an off road motor event from a destination in Europe ending in Dakar, though more recently, the rally has been races in South America.
Las Palmas (Canary Islands), Spain
The regional capital of the Spanish Canary Islands, Las Palmas was a major port of call for the Spanish from the 15th Century to the Americas. Christopher Columbus even had a house here.
The name of this city means "white house" and, while quite a modern and industrialised trade based city, it's main attraction is the Hassan II Mosque which can house 25,000 worshippers at one time and is the world's 5th largest Mosque.
Palma de Mallorca (Balearic Islands), Spain
People have lived on this famous Mediterranean Island since 5000bc and as a result of such a sustained history, it has developed what is locally coined "oleatourism", or olive oil tourism, where tourists flock to see now ancient and working olive groves and mills still producing the famous product today.
Ajaccio (Corsica), France


Napoleon Bonaparte, the famous French leader, was born in Ajaccio. Today, the house where he was born is now a French National Museum called "Casa Bunoparte" and is naturally a very popular attraction.
Civitavecchia (Rome), Italy
While Rome is famous for a plethora of reasons, here are a couple of highlights; it has museum dedicated to pasta, 700,000 euro annually is thrown in Trevi Fountain, it is home to worlds 2nd largest university, St Peter's basilica is the worlds largest church.
Genoa, Italy
Genoa is particularly famous for being the birth place of the famous New World explorer, Christopher Columbus and is regarded fondly for its prized collection of palaces.

To find out more details about our "Cruise of the week" promotion, simply click here.